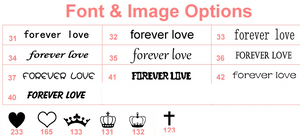 This cute personalized baby bracelet with birthstone is for newborn to 3 years old. Customize it with the name and date of birth of your little one. Feel free to add an emoji next to the name (👑 🤍 ✝️ ) . Safe on sensitive babies' skin.
Will it change color? 
This bracelet will never fade or change color. It's covered by 3 years warranty. If it fades or change color we will replace it or refund your money.
Is it Safe on my baby's skin?
Yes. This bracelet is very safe on babies skin. We know our customers are precious and only the very best materials will do.  We use only the safest materials and enforce strict purity and safety testing on an ongoing basis. Our products comply with ASTM F 2923-11 (Standard Specification for Consumer Product Safety for Children's Jewelry). This bracelet is made of Lead, Nickel and Cadmium free materials.

When will I receive it? 
It takes about 7 days to personalized this bracelet. Shipping takes 3-4 days. You can find the estimated delivery date under "Add To Cart" button.
Can I return it?
Yes. You have 15 days from the day you receive your bracelet to request an exchange or a return for a full refund.