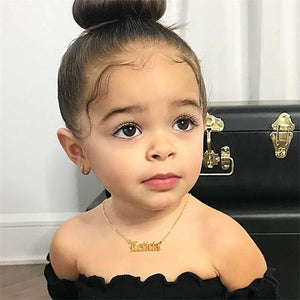 Introducing the ultimate personalized birthday gift for your little one! Our Children's Custom Name Necklace is designed for kids ages 3 months to 10 years old, making it the perfect accessory for both girls and boys. Made from premium 925 sterling silver and plated with 18K gold, this necklace is not only stylish but also built to last. Also available in 18K real gold for more luxurious look. 
You can choose from a variety of different fonts and styles, including a crown, heart, and Old English, to make it truly special and unique. Packaged in a beautiful gift box, it's ready for giving.
But we don't just focus on the look of the necklace, the safety of your child is our top priority. That's why we only use the safest materials and conduct strict purity and safety testing to ensure our products comply with ASTM F 2923-11 (Standard Specification for Consumer Product Safety for Children's Jewelry). You can rest easy knowing that our necklace is Lead, Nickel and Cadmium free.
Please note that this is a custom necklace and it takes time to make. Our current processing time is 2-3 days and an additional 3-4 days for shipping. But trust us, the wait is worth it for such a special and unique gift. Order now and give your child the gift of a lifetime with a necklace that they can cherish forever!